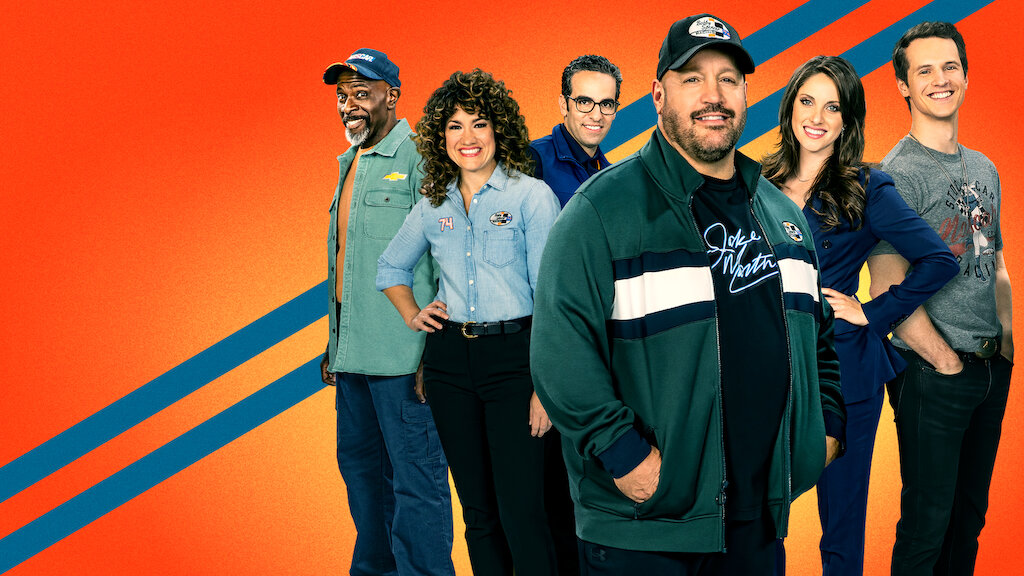 The premise – Kevin James plays a NASCAR crew chief whose team is challenged when the owner steps down and puts his daughter in charge. She wants to shake things up and modernize and the team wants everything to stay the same.
I knew this show existed, but never really thought about it. I like Kevin James, but it was not on my radar. Then I finished a show(that I still need to write about) and didn't know what to watch next. I tried the Play Something tool on Netflix where it picks a show for you and it gave me the first episode of this one. I was surprised when I discovered that it is a standard sitcom with a laugh track. It was not what I was expecting from Netflix. I don't like laugh tracks and wish shows would stop using them. I know when something is funny. I don't need a cue to laugh. If you need a laugh track for your show to seem funny maybe hire better writers. Despite the laugh track, i gave it a chance. It's only 10 half hour episodes, so it isn't much of a commitment. I just finished watching the last episode.
I wasn't sold on the show after the first episode, but I like Kevin James and Gary Anthony Williams, so I watched again. It turned out to be a pretty solid workplace sitcom that didn't need the laugh track to be funny. The cast works well together. The crew seems like a crew that has worked together for years. There is a chemistry there, especially between James and Sarah Stiles. Jillian Mueller is good as Catherine, the new boss. Freddie Stroma plays dumb, pretty boy athlete perfectly. The only weak link in the show is the wooden performance of Paris Berelc as the young, female driver Catherine wants to hire as the new driver. Luckily, she is not a featured character.
It isn't perfect. It won't win any awards. It is a good way to spend 30 minutes. It made me laugh. Isn't that the job of a sitcom?