I can't believe it is June 1 already. According to Goodreads I am 2 books behind schedule in my reading this year. That is not a surprise. I struggled to finish books this month. Here's what I read.
Upright Women Wanted
Set in the future – Esther runs away when her best friend, Beatriz, who she was in love with is executed for possessing unauthorized material. Esther is supposed to marry the man who was engaged to Beatriz. She stows away in the wagon of the Librarians and discovers there is more to the Librarians than she expected. It is a nice, short book. It still took me a while to read it. I'm just in a reading funk right now. I did enjoy the book and would recommend it.
2. A Deadly Education by Naomi Novik
The book is set in the Scholomance, a school for the magically gifted where failure means death. There are no teachers and friendships are generally only for strategic reasons. Monsters lurk everywhere and not everyone who enters the school makes it out alive. El is a loner who has been told she possesses a dark power that could wipe out millions. My daughter loved the book. I liked it, but it did take me a little bit to get into it. There is a lot of background information on the school and the world. I am looking forward to the next in the trilogy.
3. Ocean Prey by John Sandford
I'm a fan of the Prey series. I'm a fan of the Virgil Flowers series. This one has Flowers and Davenport. I liked it, but it was too long. No thriller should be over 400 pages long. So much time was spent on details of a stake out or police chase. It was too much. It took away from my enjoyment of the book. Trim it down and it is a good story.
4. The Power by Naomi Alderman
Girls now have immense physical power – they can cause agonizing pain and death. It is told through the eyes of a runaway who becomes a religious leader of the new powered girls, the daughter of a crime kingpin. a politician, her daughter, and a young man who becomes a trusted journalist. the book shows a world turned upside down by the new powers. Boys and girls are sent to different schools to protect the boys. Laws are put in place to control the power. The power in the world eventually shifts to the women. I really struggled with this one, In theory, I should have liked it more. I liked it in the beginning, but struggled to finish. A lot of people love it. I did finish, but almost gave up several times.
5. Eternal by Lisa Scottoline
I have always loved Lisa's books. Here is the story of when I met her. I knew nothing about this book when I ordered it from the library and was surprised to discover it is a historical fiction set in the time around WWII. It is set in Rome and revolved around the lives of three friends. Elisabetta, Marco and Sandro. Marco is the outgoing, athletic son of a famous bicyclist and fascist. Sandro is a Jewish math prodigy son of a doctor and a lawyer. Elisabetta is a feisty beauty who dreams of becoming a novelist. Marco and Sandro are best friends who both love Elisabetta. Life is good for them until 1937 when Mussolini aligns his Fascist party with Hitler's Nazis. We see the effects of the new laws on Sandro and his family and how the politics tears the friends apart. I loved this book. It is the first one in a while that I wanted to keep reading and didn't have to force myself to finish. I loved all of the characters. I loved the story. It was very, very good.
6. Sooley by John Grisham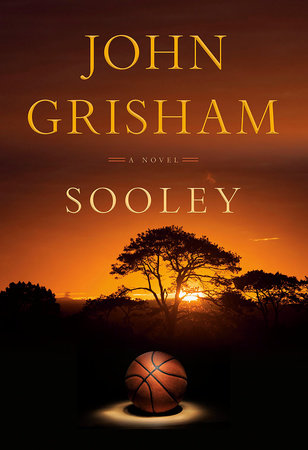 I am a fan of John Grisham. I am a college basketball fan. This should have been the perfect book for me. It was not. It started out pretty good. Sooley livs in a small village in South Sudan. He is chosen to play on a national team that will fly to the US to play in a showcase tournament. He is the last one selected for the team and does not impress the college recruiters with his play. While he is away, his village is attacked. His father is dead. His sister is missing. His mother and brothers are in a refugee camp. He gets a scholarship offer from a small school in North Carolina. Then it goes off the rails. Sooley's emergence as a star is not believable. The basketball action is not believable. As I wrote yesterday, Grisham either has no clue how March Madness works or does know and changed it for dramatic effect. The twist ending is not true to the character. Just wait for Grisham's next legal thriller.
7. Your Second Act: Inspiring Stories of Reinvention by Patricia Heaton
I cheated a little here. I technically finished this book this morning, but since I finished it before I wrote the post I'm counting it with May. I happened to see Heaton on a morning talk show talking about this book. As I am trying to figure out my second act, I decided it might be worth a read. It starts with Heaton talking about her life and how she took a risk to move to NYC to become an actor. It then has a string of stories about people and their second acts with notes and reflection questions at the end of each story. It ends with a few more chapters from Heaton with things to consider when looking to your second act. There are some valuable suggestions and things to consider in the book. The reflections were helpful. I just wish the stories were a little more relatable. Most of the people in the book had a second act of starting a multimillion dollar company or an impressive non-profit. There were no stories of ordinary people like me. I might write about some of the reflections tomorrow.