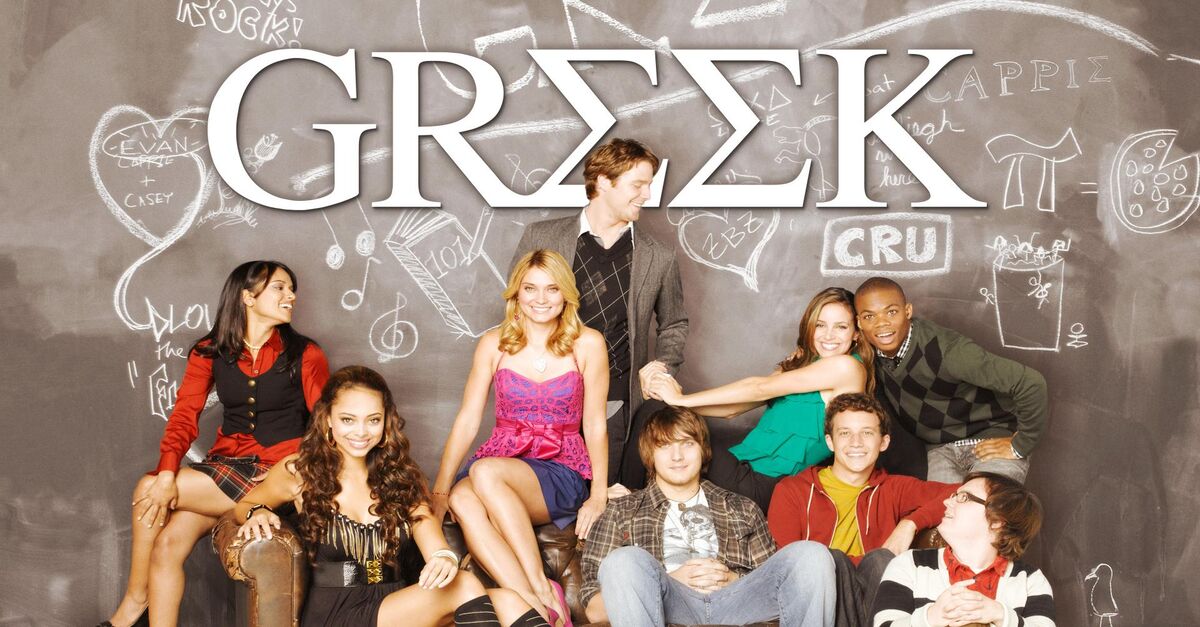 Greek aired on ABC Family(now Freeform) from 2007-2011. I was not the target audience, but I watched from the beginning to end. Over the past few months things kept coming up that reminded me of the show. It is available on Hulu so I spent the last month or so watching the entire series again. Here are my thoughts.
The premise: Casey Cartwright is a popular sorority girl in ZBZ, the top sorority on campus. Her little brother Rusty, a polymer science major, is now a freshman at the same school. Her hopes of keeping their lives separate on campus are spoiled when he decides to join a fraternity. Casey is dating Evan Chambers, the wealthy pledge chair of the top fraternity, Omega Chi. Her ex is Cappie, the slacker president of the party frat, Kappa Tau. Cappie and Evan are former roommates who now hate each other. Other main characters are Casey's roommate Ashleigh, Rusty's roommate Dale, Rusty's new friend Calvin, new ZBZ pledge Rebecca and ZBZ president Frannie.
The series mainly revolves around events in the Greek system. Rusty pledges Kappa Tau. Calvin pledges Omega Chi. Dale hates the Greek system. Rusty has to figure out how to balance school and Greek life. Rusty and Calvin struggle to not let the rivalry between their frats affect their friendship. Casey deals with relationship issues. On the surface it doesn't sound like much, but it has depth.
Dale starts out as a guy who hangs a Confederate flag in his room and believes his church's beliefs are the only way to live. He goes through a crisis of faith, declares himself an atheist and then finds his way back to his faith. At the same time, he becomes friends with Calvin, a gay, black man and by the end is coming to Calvin to ask him to counsel a kid from his church to help him come out. He could have been a comic relief/villain but they went much deeper.
Calvin struggle with telling his Omega Chi brothers he is gay. He's out at home, but doesn't want to be labeled as the gay guy at school. The Omega Chi's are also not the most enlightened people on campus.
Rusty and Evan get in a fight after Rusty catches him cheating on Casey with Rebecca. The feud lasts for almost the entire series.
Cappie struggles with the idea of eventually leaving school. He's happy at Kappa Tau and sees no reason to ever leave.
The show works best when the characters intermingle. Dale eventually ends up working at ZBZ. Calvin and Ashleigh become friends early on. Rusty and Ashleigh bond after taking a class together. Cappie and Dale become odd friends. Calvin and Dale become friends. It is very much an ensemble show. Casey and Rusty are technically the main characters, but the rest of the circle is much more interesting.
It's a good way to spend an hour here and there. You grow to care about the characters enough to feel sad when they part ways in the series finale.
If you need a new show that is wrapped and ready to binge give it a shot.